Blue Vision Music is THE source for all your children's music needs! From video to television, games to interactive toys, to music CDs to live performances, Blue Vision has experienced it all. By connecting with us you not only have access to our award-winning production studio BUT you will have direct access to some of the top children's songwriters and recording artists in the world. Dozens of Parents' Choice, NAPPA, iParenting and even Grammy award-winning artists.
Find the music you need even more easily with FIND-A-SONG™. Our online searchable database filled with hundreds of award-winning songs by the top artists in children's music today!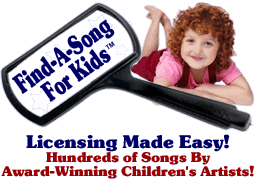 Fruits & Vegetables CD For LA - With a grant from the USDA, the LA Department of Nutrition has produced a CD entitled "Shake It Up" dedicated to getting kids excited about eating more fruits and vegetables.
Hundreds of songwriters submitted songs for this project. Only 16 songs made the final cut. Among the entries accepted, our own James Coffey with his song entitled "Put A Little Sunshine In Your Mouth." And another friend of ours, Shana Banana, with her song "Fruity Frambalooza." A double honor for us since Shana had her song mixed and recorded here at Blue Vision Music studios.
Watch Music Video!!!
"Put A Little Sunshine In Your Mouth"



Copyright 2009 - All Rights Reserved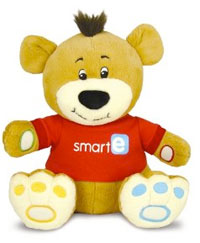 What to hear your favorite songs from James Coffey in a brand new fun way? We're pleased to announce that Blue Vision Music has partnered with Intellitoys as one of the providers for this exciting new product! smart-e bear is a great new interactive toy which connects online.
Download hundreds of songs! With smart-e-software, it's as easy as Connect, Click, Cuddle. smart-e-bear is a huggable, loveable friend that plays award-winning kids music, fun games, and interactive stories right out of the box! And personalize him to call your child by name or even speak Spanish, French, or Chinese!
Watch Video!!



FIND OUT MORE!

"Lots & Lots Of Penguins"

COOL, CUTE & CUDDLY Volume 1 of 2 DVD SET!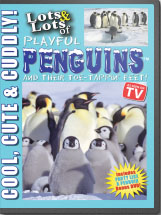 Its time to Party Like A Penguin! If you love Penguins we guarantee you are going to love, Lots and Lots of Playful Penguins! From emperors and kings to fairies and rock hoppers, these cute and cuddly tuxedo look-a-like creatures are everyone's favorite birds and you'll love watching them over and over again in this brand new DVD collection! And musical fun for everyone!!
To learn more
CLICK HERE!

Visit our new website just for family & children's artists. Great information on music production, web design, animation and much much more! Special discounts for CMN members!


"Storytelling for Kids" Wins NAPPA Gold!

We love producing CDs for talented artists! We are thrilled "Storytelling for Kids" by Mary Jo Huff has won a NAPPA GOLD -- also chosen a "Top Pick!"
From the review:
"Clearly, this storyteller knows her stories and her audience! ...These well-loved nursery rhymes and stories are told in a reassuring and engaging voice, set against great musical backgrounds and interludes that create a magical world."
"Storytelling for Kids" was also named the CD of the year by Creative Child Magazine!
Congratulations, Mary Jo!

JC Toys Wins iParenting Awards!

One of our great joys is producing music & songs for toys that entertain children all across the globe. Ride Ons, dolls, remote controlled cars, arcade games, plush animals & puzzles. We've done just about everything over the 11 years we've been working with toy companies. Our music has appeared under such brand names as Fisher Price, Tonka, Barbie, Care Bears, Hasbro & Scholastic to name just a few.
It's been our privilege to work on hundreds of toys throughout the years and now we can join in celebration as one of our longtime clients has been honored with not only one iParenting Award, but four iParenting Awards!! Toys containing songs & sounds produced by Blue Vision Music.
Congratulations to JC Toys! To read more about their achievement CLICK HERE.
To hear BVM music & songs featured on other toy projects, CLICK HERE!

DVD For Kids- Founded by animation expert Matt Welker, Fort Fun is a kid-friendly animation production company. Their first project entitled Northpoint is a wonderful 3-D animation involving neighborhood kids who gather and use their imaginations and cloud formations to entertain each other and the viewers.
Blue Vision Music handled every aspect of the sound design from editing to sound effects and incidental music. You have already seen some of Matt's effects and animation including his most recent work on Disney's "The Wild."